Ton of new #1s on the horizon, so this should be the last week like this, assuming most of them pan out.
3 - Morning Glories #37 (last issue - 3 out of 6 books)
The angle of the ghost outside of the coma patient feels at home for this series, but the cryptic jumping about from past to present as we further get to know Akiko is starting to get tedious as we're not getting a ton of movement on the story itself.
That's a shame, because Akiko seems to be one of the relatively few good eggs with little shortcomings as a character. I think her issue suffered from timing more than anything actually wrong with the book itself.
2 - Amazing X-Men #4 (last issue - 5 out of 8 books)
Jason Aaron is not just out to bring Nightcrawler back into the X-books. He's out to prove to us that these books are all the better for Kurt's being there. Flashbacks to pivotal moments with characters continue, these somehow more poignant with Beast and Logan than last issue's with storm was, and definitely reflecting the status of what we're seeing.
We watch Wolverine keep moving simply to get him back even as he hesitates to confirm that he's still dead in the name of helping his friends on an obvious and a more hidden level.
We also get some great stuff from Firestar (an underutilized character if ever there was one), that's only taken down by the weird shapes and contortions of her boobs, which McGuinness has decided simply can't be held back with clothing. Like, are boob holes actually cut into her uniform that they fit in?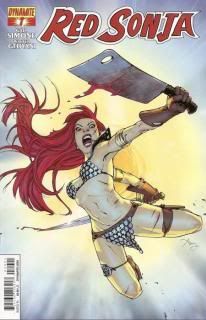 1 - Red Sonja #7 (last issue - 7 out of 13 books)
Oh man, what a brilliant send-up of foodies. I mean, believe me, I understand the love of food and herbs and seasoning. But how that works in a sword & sorcery book? Maybe not so much.
Gail Simone wonderfully juxtaposed those more refined needs with the basic needs of Red Sonja. A shower, some meat, and "someone to share a bedroll with." In all cases, her lack of a refined palate plays wonderfully and this book's playfulness just won me over at every turn.