This week, two of the most fun comics on the stands lose to one of the most nihilistic, so I think I may hate fun...
7 - Moon Knight #2 (last issue - 1 out of 3 books)
We spend the first half of this issue on the victims of a sniper being picked off one-by-one. The presentation was clever, but the whole thing felt inconsequential and then just...ended. The title character barely figured into anything save for a nice badass line about not being real. I need more story in the age of the $3.99 comic.
6 - Pretty Deadly #5 (last issue - 6 out of 7 books)
I really want to like this, and the thematic of the inevitability of death and the cycle of life was a noble reach, but I think this is a title that is just constantly getting in its own way with needless artistic flourishes that confound rather than enhance the narrative.
5 - Trillium #8 (last issue - 3 out of 3 books)
When I was planning my wedding, we looked high and low for readings and passages that lacked the troubling imagery of two individuals melting away to become one person. I don't find the idea of losing myself in my partner to be particularly romantic. But a metric ton of people do.
For those folks, this is a perfect ending for this series. Artfully and beautifully the conclusion of a story about love literally bringing to separate people and slowly merging them into one bright, flashing star. If this is your image of what love is, this is perfect.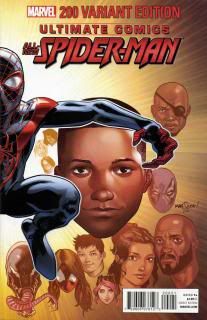 If you're me, though, this is a beautiful representation of a troubling worldview.
4 - Ultimate Spider-Man #200 (Survive - 4 out of 7 books)
It's weird to think that a world where a super hero dies and stays dead exists. But here's the Ultimate Universe and (with the exception of a strange Beast resurrection in the old Ultimate X-Men) dead still means dead, even when dead applies to the character without whom none of this would be possible.
But instead of just creating a world where death has more weight when it happens, we've also been given a world where the death of Peter Parker can affect characters two years after the fact. Surprisingly, it can affect readers as well.
3 - She-Hulk #3 (last issue - 2 out of 3 books)
It's difficult to defy DOOM, especially if you're his offspring looking to defect from Latveria. The legal complications that the younger DOOM created for himself through his arrogance, inherited from his father, but there's also the matter of making it to court in the face of Doombots, which are more prolific in America than you'd think.
Soule has hit the jackpot here, with a consistently witty book that doesn't slow down on the entertainment for even a little while.
2 - Red Sonja #8 (last issue - 7 out of 13 books)
And then speaking of consistently witty and entertaining, Gail Simone drops another chapter in her artisan collection storyline, with the best running subplot in any comic yet: Sword & Sorcery cheesecake character simply cannot get laid ever and it's hilarious.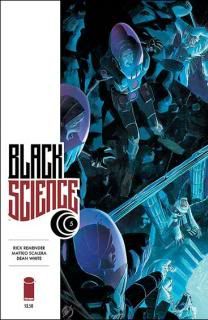 But there's more to Red Sonja than cheesecake, and I'm glad to be learning it. Her moral compass may be hard to follow at times, but when she decides something is right, the decision is final and binding.
1 - Black Science #5 (last issue - 6 out of 10 books)
Liars. It's right there in the title. What Remender is asking us to consider is which characters are telling lies and why. It was probably only a matter of time before Grant and company met up with the masked figure going after the children, but the version of events from this character are the real lies we want to consider.
The who of it is clearly a lie, but how much truth is in the rest? How much is true about the identity of the saboteur, for example? Or the account of how many realities end in the same tragedy? It's slick storytelling with a nice little glimpse of the world of issue 6 right at the cliffhanger.