You know those weeks where nothing is really bad, so I feel badly that something is going to be in last place? Everything was good, some just better than others. I like those weeks a lot.
7 - Rachel Rising #21 (last issue - 2 out of 6 books)
Kind of a weird issue here, with some nice work done over the disenspirited body of Johnny and the idea that you can flush what's wrong out of a body and then reassemble it if you happen to have a freaked out dog carrying the important piece, but the whole issue just felt out of place with the rest of the narrative given how much we've learned.
Even the token murder at the end seemed oddly loose from the rest of the plot. Things just stopped moving forward for an issue.
First, I was kind of shocked to see as many repeating beats. Lucas pushing too hard against his followers, causing disgruntlement but not rebellion. Lucas finding his conflicting motivations in what he has to do and what he wants
. Two allies brought together by a truth no one wants to acknowledge.
It all happens, and we're really right where we started. A bunch of kids hiding things from each other and trying to keep a secret from a group of adults who have no idea. I'm not sure if I like that circuitous plotting or not. It's not uninteresting, though.
5 - Young Avengers #12 (last issue - 4 out of 6 books)
YOUNG AVENGERS ASSEMBLE! Prepare the showdowns and put the pieces in place for some big character resolutions (what is going on with Noh-Varr already? how will it affect Kate?)!
My favorite moment, though, is a fourth-wall shattering moment from a Loki that looks an awful lot like Tom Hiddleston reminding us that the book is always better.
4 - Uncanny X-Men #14 (last issue - 6 out of 10 books)
What Bendis gives us here is a strong character piece about young Benjamin Deeds. In it, we see Cyclops trying just a little too hard to go drill sergeant (the sort of thing that works for a Captain America but is a little hard to swallow from a guy who's cast himself as the only guy who cares about mutants), Emma taking another - more teacherly - approach with a field trip that's both funny and poignant, and we still get a development that pushes the overall story along.
3 - Zero #3 (last issue - 2 out of 10 books)
Mission-by-mission, we're seeing what leads our main character to the kind of nihilistic place we met him in at the start of the series. Each mission strips something away, and each debrief in the back of each issue betrays a retelling of events to keep him from having to acknowledge it (or the cracks showing in his psyche).
This book is all kinds of interesting, it's just lacking that last bit to really fully form itself. I have no idea what that last bit should and/or will be.
2 - Superior Spider-Man Annual #1 (Superior Spider-Man #21 - 2 out of 5 books)
In what could have easily been a throwaway issue, Christos Gage gives us a very uncomfortable Octer-Man tale that teases Otto getting Peter's family ties in order but really betrays that in a horrible way. It's a smart, sharp script that descends into brutality.
That brutality is not for it's own sake, and it's not just to show that Otto is a bad guy compared to our beloved Peter. It fits the ongoing story and, more importantly, shoves a wedge into the Parker family that Otto had been working so hard to keep together.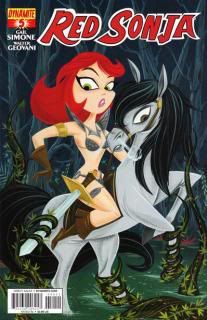 1 - Red Sonja #5 (last issue - 4 out of 6 books)
Oh boy, I do love this book. Red Sonja is angered by, 1) being infected by a plague, 2) the cure being worse than the disease, 3) having her enemy be her former comrade whom she loved, 4) the dishonoring of the only person, god or man, that she ever bowed to, and 5) THE SHUTTING DOWN OF THE PURVEYORS OF DELICIOUS ALCOHOL. She hates them roughly in that order from least to most.
I also really appreciated Simone's emphasis of the disconnect in a sword and sorcery book between magic and science to Sonja, who's got no real use for the difference.
Mostly, though, this book is delightful for the dialogue. Red Sonja's hard words and her bodyguards' praises are always so much fun it's ridiculous. Gail Simone on his book has brought back the sharp wit that I loved so much in The Secret Six, and I am eternally grateful.